Good morning all and Happy Monday! Hope everyone did something nice for the mothers this weekend! Another historic run in the markets this week, with lumber and panels pushing higher still. Lumber futures are trading nearly 40% over their prices just 3-4 weeks ago. SYP lumber is still the most economical option in the North American markets, and that will continue to drive our prices up regionally across all dimensions and grades. Plywood is in the same shape with gains posted again this week and mills mostly off the market with order files into July. What little rated sheathing comes available is bought at steep premiums in many cases by OSB buyers that cannot maintain supply. Freight is still a nightmare, and the hits keep coming. At Lodge Lumber, we make a conscious effort to maintain inventory levels to provide options for our customers. Ask a member of our sales team if there is an alternate product available to reduce lead times or show cost savings. We could all use a little help with both these days. Hope you all have a great week! Here to kick it off is your lumber madness comic relief: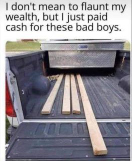 Please feel free to reach out to me with any specific questions or feedback on the Report or anything else in the wild world of lumber. The entire Lodge Lumber team is dedicated to being a valued partner to our customers, vendors, and to our community. We look forward to talking with you all soon!
Andrew Harris – Sales Manager
andrew@lodgelumber.com
For quotes and orders, email lodgeteam@lodgelumber.com, call 713-672-6679 or fill out our contact form.